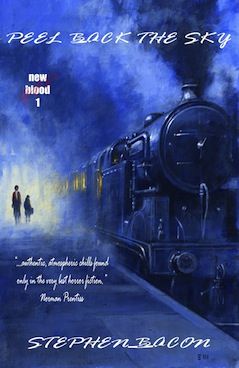 Stephen Bacon's debut collection, Peel Back The Sky, is the first volume in Gray Friar Press' New Blood sub-imprint, and it's a fine choice to launch the series.  The book gathers 21 stories, six original, with virtually all of the reprinted stories having first appeared in UK small press publications, so it's likely that Bacon is unknown to most of the U.S. audience.
It's sometimes illuminating to take a step back and examine a collection from a higher level, looking for themes. With that in mind…Peel Back the Sky feature a variety of settings and protagonists, including five tales with females as primary characters and four more with children in a prominent role.
Seven of the 21 stories are very much focused on remembrances of an earlier time — some being completely framed narratives, others smaller flashbacks.  For example, "The Strangled Garden" is a tale related in a gentlemens' club (a format that was once common) regarding the narrator's time spent as an estate gardener during the 1920s.  A large, separate section of walled-off garden is reputed to be haunted but is ultimately found to contain something even worse, as the narrator hints here:
Even now, gentlemen, on occasion I might be reminded of that terrible autumn; a smell of rotting leaves, the dappled shadow of skeletal trees, crackles of frost underfoot. In that instant I'm transported back, and I suppose those memories have darkened my journey through life ever since.
"Persistence of Vision," one of three stories dealing with child abuse (and no, that's not giving too much away), features an adult narrator who's reminded of the time when, as a boy during the late 1970s, he and his widowed father moved in with his strange, reclusive Uncle Keith.   It's not until decades later, when his father is dying, that he comes to realize some disturbing facts about his father and Uncle Keith.
In "The Devourer of Dreams" an adult male narrator again recalls a period during his youth, this time in 1947, when a guest visiting his parents' inn brings some very strange luggage with him.  When the guest dies unexpectedly, the boy's father "inherits" the package, and it changes his life.  The narrator himself later inherits the item, with similar results, and now, on his deathbed, is ready to pass along the "gift."  It's the unique nature of the framing device that makes this story worthy of mention.
"I Am a Creation of Now" is a relationship story, focusing on one level on how rarely we truly know someone. Tellingly, the first line is, "I had lived with my girlfriend for over 3 years before I found out her real name wasn't Marnie…" and the description of their relationship is exquisitely melancholy:
The winter made our relationship more fragile. During the long days of the summer it felt like we had room to breathe, had maneuverability. But the dark nights pressed against the glass of our closed window, silencing the outside world, magnifying our frustrated tolerance of each other. We were like insects trapped in a killing jar.
Also notable is "Cone Zero," wherein a college student becomes obsessed with a mysterious, reclusive artist — and one of the artist's works in particular, which may depict the student's late mother. The student journeys to visit a former companion of the artist, where he is rewarded with the backstory of the painting's focal point:
"The Cone Zero Device was a metallic object about this big, with a pointed spout, and a . . . an eyepiece. Some people say it's a gift from the gods. Others say it's a curse – punishment for the curiosity of mankind. Legend has it that to peer into the lens was to glimpse the actual future."
In addition to the aforementioned seven stories featuring flashbacks or recollections, three more tales are set in the past while two are set in the future.  Of this group, the two futuristic tales are both notable, particularly "The Other Side of Silence," which centers on a man who awakes from a coma-like state and gradually comes to understand that he has unexpectedly recovered from a sensory-deprivation virus that has decimated mankind…but his remission is not all good news.
The remaining nine stories feature apparently contemporary settings, and at least three are versions of what I would call contes cruels, all of which are effective but not highly memorable.   The best among the other tales are "Hour of Departure" and "Concentric," with the latter, which feels very different from the other stories collected here, concerning a giant "hole" that appears in the North Pacific.  Scientists are recruited by the military to investigate, and what they find at the bottom of that hole is scary indeed.
Overall, Peel Back The Sky is an impressive debut, for both Bacon and the New Blood imprint. The variety of the contents means there's likely something here for every reader.  Les Edwards, a long-time favorite of mine, wraps the package perfectly with a brilliant cover painting.